Integrated communications across earned, owned and paid media:
T-Systems launch new cloud solution in Denmark, Sweden and Finland
When T-Systems, which is the IT services subsidiary of Deutsche Telecom, launched their public cloud platform, they were up against well-known cloud providers like Amazon, Google and Microsoft. In addition to being responsible for the launch, it was our job to promote the Open Telecom Cloud solution to the CIOs, CTOs and CFOs of larger Danish, Swedish and Finnish companies.
The challenge was formidable
T-Systems holds a strong market position in Germany, but is considerably less known in Denmark, Sweden and Norway. And competing with such familiar names in the industry is not for the faint-hearted.
Strong content strategy supported by PR and paid media
Our integrated approach consisted of:
Reality check to gain a better understanding of the target group's challenges and interests
PR launch of the cloud venture
Content marketing through a LinkedIn showcase page with quality content aimed at a narrow and much sought-after target group
IT media banner ads
In less than one year, we could tick off:
Launch of the Nordic showcase page on LinkedIn. From here we posted numerous blog entries based on our research of the target group and messaging
Almost 300 CIOs, CTOs and CFOs as followers of the page
More than 1.6 million views and 4,500 clicks, many of which led to visits to the T-Systems Nordic website
Banner ads on Computerworld in Denmark, IDG in Sweden and Tivi in Finland gave a reach of about 1 million readers and generated 3,800 visits to T-Systems Nordic.
Quality publicity of T-Systems' cloud venture in Danish daily Berlingske and online magazine IT Reload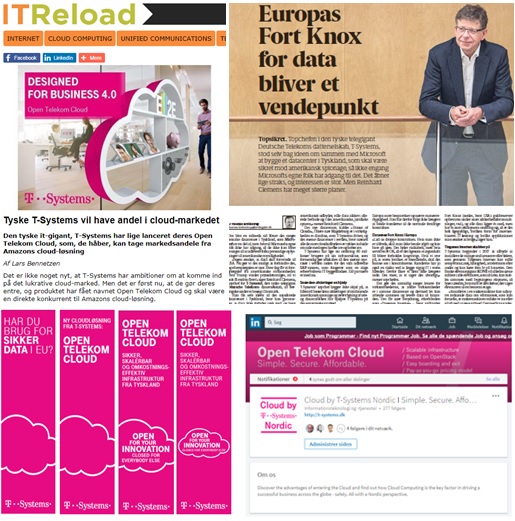 Both the PR and SoMe campaigns are ongoing. Today, the LinkedIn showcase page and company page have been merged into a single page with more than 1,600 followers.
Check out T-Systems LinkedIn showcase page